World-Class Architecture
Testworx automation bots can be configured with very little scripting – ideal even for testers with minimal development experience. Best of all – these bots can be reused for similar functions and applications.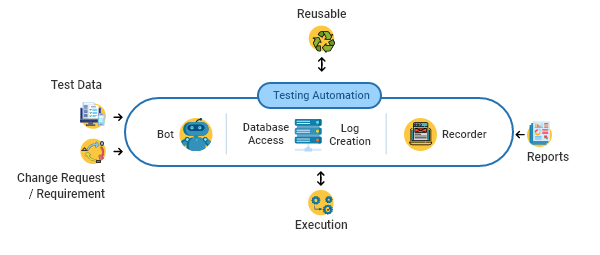 Developer-Friendly, Unified Solution
With Testworx, you can accelerate end-to-end testing, increase test coverage and eliminate bottlenecks with minimum hassle and maximum ease.
Single platform for multiple projects, requirements and test cases
Drag & drop function to configure test case steps
Executive, detailed, real-time reporting with replay functionality and error logs
Batch run and notification functionalities
Visual representation of test case failures at the step level
Recording of test execution steps as videos
Logging of test case execution results at every step
Auto-execute test cases at pre-defined times
Automatically log defects and capture detailed metadata
Multi-Stage Testing Pipeline
Testworx can be used by any team for any kind of project and at any stage of testing maturity from Assessment to Reporting.