Robust Architecture
Theia's architecture is perfectly suited to marry Computer Vision's technological prowess with real-world business applications. Powerful, expandable and yet user-friendly, Theia delivers consistent, high-performance computing power that can be easily utilized by many platforms and applications.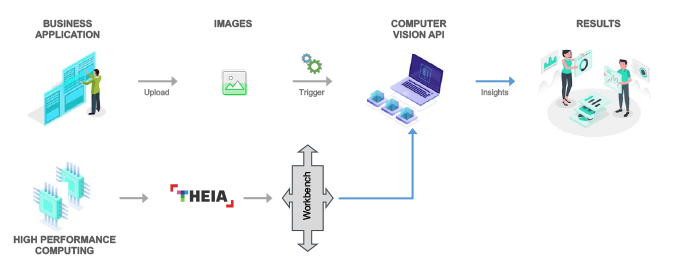 Scalable, Repeatable Process
Theia emulates human vision through three main processing components, executed serially, one after the other:
Image acquisition in real-time through video, photos or 3D technology
Image processing with advanced algorithms and Deep Learning models
Image understanding to recognize, track or classify objects
Based on this understanding, Theia can even take actions to help a business meet specific objectives and accomplish certain goals.
Multiple Use Cases
Theia has already been implemented for multiple use cases in different industries:
Image auditing and matching
Defect detection
Background removal
Image meta-tagging
Image labeling
Logo detection
Watermark detection
Theia can be customized to fit your organization's needs and the nature of your data, so you can optimize the turnaround time of your visual data-based operations while improving output quality, controlling costs and increasing profitability.
Deep Learning Technology With Neural Networks
Theia is not just about converting a picture or video into pixels but about mobilizing the capabilities of Deep Learning and neural networks to replicate human vision. As a result, it can interpret what those pixels represent, recognize patterns and even understand the bigger picture. This allows businesses to extract valuable information from visual data that can help with real-world problem-solving and decision-making.